You can even have a barbecue in quarantine - and it will be better with the right knives
1. května 2020

We have prepared a few principles for you to choose knives. They will ensure that the barbecue will be a really beautiful experience for you. Because it is important to choose not only the right grill but also quality and suitable knives.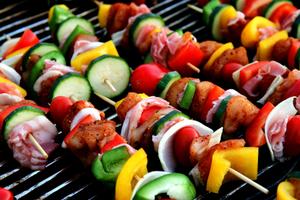 Beware of hygiene. Choose knives that can be washed well and that do not have joints in which dirt can get caught and bacteria multiply.

For the preparation of raw meat, it is best to use a

chef's knife with a wide blade

or the knife

Santoku

and a

boning knife with a narrow blade

. For serving use our

steak knife

. Offer it to each of the guests, they will appreciate it.

Choose a special knife for preparing and cleaning vegetables. The reasons are, of course, hygienic, but at the same time vegetables require a slightly different design for their slicing.

  vegetable knife

. 

For hygienic reasons, also use a separate

pastry knife

.

Pay attention to safety at work. We especially recommend choosing knives with a protector to protect your fingers from being cut. 

Knives should not be exposed to heat for a long time. Therefore, choose special tools for the grilling itself and use the knives only for preparation and consumption.

It is important to wash the knives thoroughly after each grilling. But watch out for the dishwasher. The physical and chemical processes are relentless and the aggressive environment of the dishwasher disrupts every blade. Therefore, it is better to always avoid washing in the dishwasher. 

Keep the knives sharp - you can use to refresh the blade

steel

, a grinding is ideal for

stone grinding

. You can find a video on how to proceed with grinding on our

Youtube channel

, and instructions on

the website

.

Beware of storage - knives should not lie on top of each other, it is ideal to store them on a magnet or in a special box.

We have prepared a special discounted set of knives for all barbecue fans

Ruby,

where you will find everything you need.