Three reasons to honour General Josef Bílý
31. července 2019

The first knife of our War veteran project with the Military Solidarity Fund is the officer's version of the trench knife M-1917. The knife is also an expression of our homage to General Josef Bílý. Therefore, we want to highlight three main reasons for this decision in our blog as well.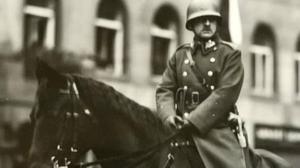 1. General Bilý was a soldier body and soul.
He studied cadet school in Trieste and War College in Vienna. He went through several military units and was selected as a cadet teacher in Vienna, where he taught tactics and training. When the First World War broke out, he did not stay at school but left as commander on the Russian front. After healing the war injuries, he commanded in Italy a special troop, which bore his name and remained in the Austro-Hungarian army until the end of the war. There are not many men and women for whom their vocation has become the meaning of life. 
2. General White maintained loyalty 
As he remained loyal to the Austro-Hungarian Empire, he was also loyal to the Czechoslovak Republic until his death in November 1918. Although most other officers were legionaries, he was a highly respected person. He was promoted to general rank already in 1921, and in 1935 he retired in the level of Army general.  
3. General White did not let unfavorable circumstances to break him
After the occupation of the Republic by the Nazis, he co-founded the resistance organization Defense of the Nation and headed it. He had been hiding illegally since 1939 but was arrested by the Gestapo on 14 November 1940. Despite harsh interrogations, he did not betray his country. When he was sentenced to death, his last words were: "Long live the Czechoslovak Republic! Fire, you dogs! '