Mikov will be a successor of Lubomír Maďarič
17. dubna 2020

There are not many knife makers who have impressed themselves into the minds of knife fans in the past thirty years, like Mr. Lubomír Maďarič. A trained locksmith, who excelled in athletics and weightlifting in his youth, began making his first knives back in 1972. Since then he has become a master of the fine crafts in a good sense and has gone through a number of occupations, but he has remained faithful to the knives. Since 1993 he has been professionally producing them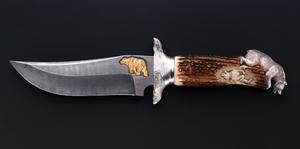 Among the major achievements of Lubomir Maďarič is not only that the owner of his hunting knife became the former US President Bill Clinton, but above all, since 1997 working on knives for the army and police. Knives created in collaboration with army expert Roman Hippik military specialists have proven successful among others on missions in Iraq or Afghanistan. 
In addition to being a great knife cutter, Lubomír Maďarič is also the President of the Society of Art Knifes of Bohemia and Moravia (BMAC) and is responsible for the organization of international cutlery exhibitions in Brno, which have also gained world renown.
However, no one can stop time. Even though Lubomír Maďarič is far from ready to rest, the thoughts of ​​how to ensure that his knives can continue to be of the same quality, even after he can no longer devote all of his time to his production, is coming back on his mind more and more often. And the solution came from Mikulášovice in North Bohemia.
Mikov, as the traditional and largest Czech manufacturer of knives, has been working with Lubomír Maďarič for a long time. Therefore, on the basis of good mutual relations and trust, there was no big problem in concluding an agreement that would allow the Hungarian knife brand to exist for decades to come. 
Based on this agreement, therefore, since the summer of 2020 Mikov completely takes over their production. What does this specifically mean? For all those interested in the Maďarič knives, there is no fundamental change, as the most popular models will be possible to order at Mikov's e-shop. Now are available the first ten models, and others will come. 
And when it comes to news? Mr. Lubomír Maďarič will continue to guarantee the models of his brand and will also be involved in the development of new knives. However, it will not develop the brand independently outside Mikov, and Mikov also becomes its exclusive dealer. 
Mutual agreement in addition to cutlery production and organization of the famous Brno cutlery exhibitions. These will continue and Mikov will take over their organizational and technical support from Mr. Maďarič. 
According to the original plans, this cooperation should be announced at the lottery spring exhibition Brno Super. However, this has been due to measures abolished on the spread of COVID-19 and therefore we are choosing the path of blog and press releases. 
As a company, we are proud that a person such as Lubomír Maďarič undoubtedly has shown us his confidence. We perceive this primarily as a great responsibility because we realize how much work and effort it took to build this brand. We are therefore determined to do everything not to spoil his reputation, but vice versa - to move it even further in cooperation with Lubomír Maďarič.