Where do we go to exhibitions abroad in spring?
23. ledna 2020

Not long ago, there was a belief that the internet and social networks would completely destroy trade fairs and exhibitions. But hunting knives, military knives, EDC or special cutlery series need to be inspected, weighed, tested to see if they fit well. Even though ordering through the e-shop is much more comfortable than shopping in stores.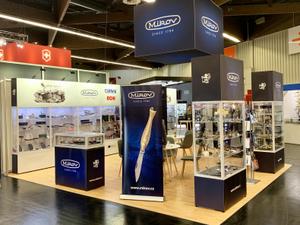 And of course, an essential part of all exhibitions that everyone in our sales department is always looking forward to is the opportunity for contact with clients and the feedback we can get on Mikov knives. And this applies not only at home but also abroad. There we feel a great responsibility because we know that as a traditional and largest Czech cutlery company, we represent not only ourselves but also the Czech Republic.
So where can you meet us abroad? From 28 to 31 January, it will be in Stuttgart at the Dach and Holz trade fair. In February, we will head north, to Poland to the Pozma Fair that will be held in Poznań from 4th to 7 February. And the peak of the spring season will be March. From 1st to 4 March we will be in Cologne at the Eisenwarenmesse. Then there are only two days left to start the most important meeting of all knife manufacturers - IWA Outdoor Classics in Nuremberg. This year it will be held from 6 to 9 March. Of course, we will not miss it!
Don't worry. We will not avoid domestic fairs and exhibitions this year. But we will inform you about them again next time.