Handles matter
9. ledna 2020

When you purchase a knife, choosing the right handle is as important as selecting a blade. If the knife is difficult to hold, its construction does not protect your hand when cutting or gets easily damaged, it means it is not a good knife.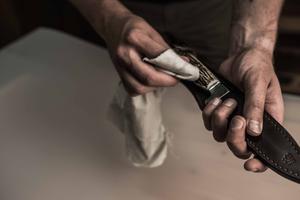 The shape of the handle always depends on the type of knife. Cooking knife looks different than a hunting knife or a knife designed for military needs. And of course, the grip material also adapts to the purpose of the knife. 
Customers will find a wide range of handle materials on Mikov knives. The cheaper ones are plastic or rubber grips, more expensive are made from metal or special materials, such as the G-10. Luxury knives tend to have grips, for example, from antler, stabilized bones, rare woods or even mammoth.
It is precisely in these precious and expensive materials where stands out the art of the knife, and it is true that each knife is unique. For example, a knife maker that works on a hunting knife with an antler handle must know exactly what antler he has to use, how to cut it to make it look good on the knife and not destroy the material.  One wrong movement while cutting and the damage can no longer be repaired. 
Choose wisely when choosing your new knife. We wish you the best of luck!