The Museum of Cutlery Tradition Is Alive, It Is Not Only About Memories
17. listopadu 2019

When the Museum of Cutlery Tradition was founded in Mikulášovice in 2012, it was actually only two modest rooms on the premises of the Mikov factory, which were opened only during working hours on weekdays.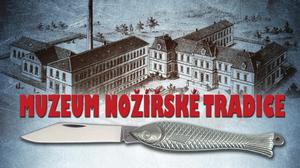 After the change of the owner, when the merger with Conmetron created a strong engineering group focused on the production of knives and office equipment, the museum received a new impulse. In agreement with the town of Mikulášovice, it moved to the centre of the town and increased its area several times. And what was also very important for visitors - especially the opening hours on weekends.  
Since then, the museum has not only served as a memory place for visitors but has also expanded to include new exhibits - both cutlery and office equipment. New and rare pieces are still appearing because hundreds of knives have been produced in the heart of Bohemian Switzerland for almost three centuries, which are worth seeing. 
Not only that but the company Mikov Museum adds new products - especially the rare and valuable exhibits of limited series - whether such as the fish Nespresso, military UTON or perhaps an officer's knife M-1917.
In addition to a tour of the exhibits, visitors to the museum can also view a historical television documentary about the company, take away promotional materials, or even buy new knives, as there is a shop in the Municipal Information Center where the entire range of the company is available.
More information about the museum can be found on its website www.munotr.cz