Ruby Knives in Full Force
7. listopadu 2019

When we introduced the first four Ruby kitchen knives this spring, we promised that a complete set of knives of the same name would be available in the fall. And this is the time.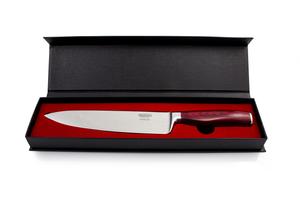 From November you can choose and order from a total of ten Ruby kitchen knives that we offer. In addition to the classic kitchen knife, for example, steak knife, fruit knife, vegetable knife, carving knife, boning knife or certainly interesting knife Santoka. For Ruby knives, we also offer original steel as an accessory.
All Ruby knives are made of German martensitic steel DIN 1.4116 with a hardness of 55 HRc with a wooden handle. The knife handle fits perfectly with the grip so that it does not create any space to catch dirt. Besides, the blade design is designed to protect your fingers from being cut. 
Ruby knives are packed individually in designer packaging, so there is no need to buy the entire set, but only those knives that you use and will become indispensable helpers in the kitchen. 
Ruby kitchen knives are another step that continues the long tradition of producing high-quality knives in Mikulášovice, the metropolis of Bohemian Switzerland.