Stovka- a Universal Knife
4. října 2019

When you go out don't forget a tie, jacket, wallet, and cellphone. But when you go to the forest, wear outdoor clothing, backpack, quality shoes, and bike jersey. What about knives? It is also necessary to choose your knife according to the occasion - a special one for hunting, another for cutting overgrown terrain and another for cooking. And then there are universal knives that will not disappoint, although as with all universal things, it is at the cost of some compromise. This universality and compromise, however, is not a disadvantage, but just a characteristic feature.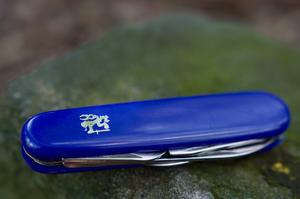 A typical representative of this type of knives is mainly Stovka knife. It can handle everything, with a little effort, the hunter may even throw out the caught game, although in practice they prefer to choose one of the hunting knives - Fixir, Hunter, Hubert or solid forest. 
Stovka can be chosen in various designs - from a single knife with one blade to a multifunctional tool. On the market is then with a plastic blade in blue or black, but also in pure all-metal design.  
Thanks to its simplicity, the Stovka looks elegant and it is not a shame to use a similar knife during events where bon ton requires a tailcoat and a long formal dress. But it does not offend even as a stylish accessory to women's handbag, especially when the lovers of ornaments can choose a Stovka decorated with colored crystals.