The Military Fund Solidarity Will Receive the First 100,000 Kc From the Mikov War Veteran Project
9. září 2019

The Military Solidarity Fund will receive 100,000 Kc for the sale of the limited edition officer's knife M-1917, which was introduced in July in the presence of the Chief of the General Staff of the Army of the Czech Republic Aleš Opata.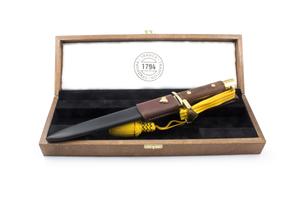 The aim of the project "War Veteran" is to link the heroism of Czech and Czechoslovak soldiers with humanitarian assistance to survivors of fallen soldiers and soldiers who lost their health in the performance of their duties.
"As part of the project, we plan to launch one knife per year, inspired by some of the major military missions of our army. From each piece sold, we will always contribute to the Military Solidarity Fund similar to the knife of the M-1917. Specifically, the fund receives CZK 500 for each piece sold, "said Martin David, Business Director of Mikov.
Knife M-1917, which is modelled on the estate of the war hero Army General Joseph White, is also intended as a tribute to this exceptional man. Today, customers have less than twenty knives left to order.
Established in 2015, the Military Solidarity Fund supports soldiers and their families who are in a difficult life situation. Mikov as the largest Czech manufacturer of knives and office equipment, owned by the manufacturer of hand tools Narex Bystrice, with the project "War Veteran" establishes long-term and systematic financial support of the Military Solidarity Fund.