Mikov at the Knives 2019 exhibition in Příbram will present the trench knife M-1917 from the War Veteran Project
2. září 2019

Mikov is an official partner of the 28th edition of the most important knife exhibition in the Czech Republic "Knives 2019", which takes place on Saturday 7 September and Sunday 8 September in the Cultural House in Příbram.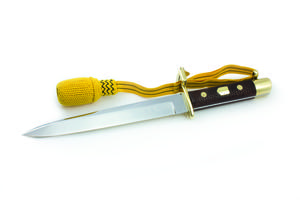 The presentation of Mikov, one of the largest among all the companies, will offer visitors a large assortment of cutlery. Those interested will be able to see the knife M-1917, which is part of the limited-edition knives from the project War Veteran. 
In addition to classic products such as the Predator throwing knife, the Gentleman's Pocket and the UTON military, Mikov's offer will also include the latest innovations - a limited-edition kitchen knife hardened with traditional Martfrost technology, Ruby kitchen knives or a Quattro electrician's knife.
The Příbram exhibition has been held regularly since 1992. In addition to Mikov, dozens of exhibitors from the Czech Republic and abroad will participate. In addition to the knife exhibition itself, which will be open on Saturday from 9 am to 6 pm and Sunday from 9 am to 12 pm, there will also be a rich accompanying program. 
Mikov is a traditional manufacturer of cutlery, office equipment and industrial fasteners, which follows the industrial history of the region of so-called Bohemian Switzerland, dating back to 1794. The Czech manufacturer of hand tools Narex Bystřice belongs to Mikov.