Guru inspired by Nepal
21. května 2023

It's not exactly a knife, it's not exactly a sword, it's a type of chopping weapon that can be classified in a fairly broad group of so-called machetes. Large chopping weapons, also designed for work, have been developed independently all over the world. Our Guru has its roots in Nepal, where the kukri knife was born among the Gurkha hill people.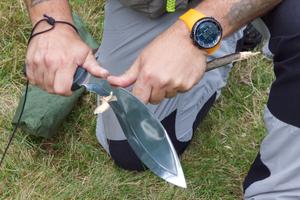 Some historians state that the kukri was inspired by the swords of the famous warrior Alexander the Great during his campaign into northwest India, which culminated in 326 BC with the Battle of the Hydapse River (now the Jhelum, a tributary of the Indus). In any case, it was only the Gurkhas, as tough and tenacious warriors who have been among the elite units of the British army for over 200 years, that made the kukri famous throughout the world.

The blade of the massive and heavy weapon, with the edge on the inner bulging side, is the ideal weapon in the first place, which can be used to chop, stab, cut, hit or use its flat side to stun an enemy.

Knives are fortunately no longer used for fighting in our conditions, but for Gurkhas the kukri is useful not only in war - it is great for cutting a path in overgrown terrain, harvesting in the field, hunting or preparing wood - and this is what can be a good inspiration for our Central European conditions - wandering in the woods, helping to sit with friends or even working in the garden.

You can buy the Guru knife made of stainless steel and a hardened rubber blade in our e-shop together with a high-quality leather sheath.