Soccer Legends
13. března 2023

Pocket knives are still one of the most popular cutlery items. For many people they are both a practical tool and a design accessory. And it doesn't have to be just luxury pieces, even Stovka knives can become a decoration.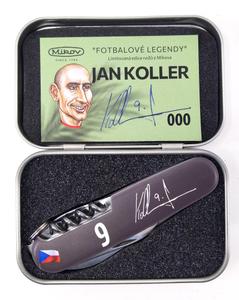 An example is the special edition Soccer Legends, where Spartan soccer players Lumír Mistr, Jan Berger and Jan Koller have appeared on the knife blades. But it's not just a Spartan thing. The very next soccer players in the edition this year will be the Slavic player Vladimír Šmicer, followed by other famous soccer personalities.
The number of individual knives is limited, the knife with the picture of Lumír Mister is already sold out.
The Soccer Legends knives with a plastic blade, which are always designed by the footballer depicted on them, are equipped with a large blade, a small blade, a can opener, a bottle opener with a cut-out for stripping wires, a spike, a corkscrew and a key ring. They come in a metal gift box and with a numbered certificate signed by the soccer players.
Knives from the Soccer Legends edition can be purchased exclusively on our e-shop or from our partner retailers.