Pocket Knife Set - Design and Elegance First
15. května 2019

Knives Pocket is the first actual result of the company's long-term cooperation with the leading Czech design studio Olgoj Chorchoj. In  2014 a meeting decided to launch a knife that would be simple, timeless and elegant, without compromising the quality of the processing and the materials used.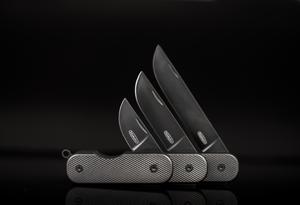 But before the typical minimalist and original lines came into existence and the first production series was released, there was a great deal of work to do. Among other things, it included thorough research of the world cutlery market, augmented by the enthusiasm of both authors - professors of the Prague UMPRUM art university Michal Froněk and Jiří Němeček, who stand behind the Olgoj Chorchoj brand.
Pocket Knife Set was first presented at the Designblok 2015 in Prague, where it received the Editor-in-Chief Award. This was followed by success at the Tokyo Design Week 2015 and a prize for the year's producer at Czech Grand Design 2015. All that was crowned with the Red Dot Award 2016.
When we talk about sets, it means that the knives come in three sizes - S, M and L. The blade is made of Böhler N 690 steel, the other parts including the handle are made of ordinary stainless steel. However, it is all equipped with a special DLC (Diamond-like carbon) coating to protect the knife from damage as with this treatment the material offers higher scratch resistance.
Pocket is not only a practical tool for daily use but also a stylish fashion accessory - a knife that adorns both men's pockets and women's handbags.