For butcher masters from Mikov
10. června 2021

Butchers have always belonged to esteemed and respectable craftsmen. After all, the first craft guild in Prague was founded in 1312 - and it was the butcher's guild. And it is no coincidence that the guild emblem of the butchers of the Kingdom of Bohemia was a lion with a butcher's width in its paws.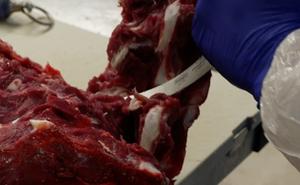 We like to listen to the masters of the butcher's trade and try to design butcher's knives to meet the most demanding requirements. Therefore, we have prepared several novelties for this year for both professionals and those who like to work with meat at home.
First of all, we launched two boning knives with a curved blade, which were not yet in our offer. These are types 312-NH-13 and 312-NH-15, which are due to greater flexibility and cutting ability intended for easier deboning of meat, especially in the area of ​​joints and pelvis, and then also for separating meat from long bones.
In addition, we have made adjustments to the handles of our butcher knives to increase the ergonomics and safety of the grip. Each batch of knives is provided with a specific ID thanks to the monitoring of the high quality of production. 
As Mikov, we are rightly proud that Czech butchers like to use our Czech butcher's knives. Because professionals, for whom the knife is the main working tool, make sure that they choose the best on the market. Our butcher knives offer them everything they need - quality, ergonomics and a fair price.
Visit our e-shop and see the complete range of butcher's knives designed for boning, slicing and meat processing. Certification for contact with food according to European Union standards is included, of course. 
You will definitely find the knife you need there, so there is only one thing left - order it in time.