Central European Legend UTON
11. dubna 2019

UTON is an Czech abbreviation that is used for Army Attack Knife no. 75, used by soldiers of the former Czechoslovak People's Army. There it served explorers, parachutists and socialist airmen who stood on the opposite side of the Cold War than the legendary James Bond, to self-defense and the silent liquidation of enemies.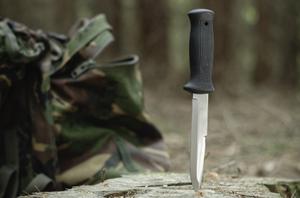 The development of the knife began in 1972. From the several versions that were then created at the Research and Testing Institute Slavičín, the one we recognize today was chosen for serial production. Because at the time of the planned economy there was no competition between manufacturers, UTON's production from the Ministry of National Defense was commissioned to  Mikov and the production began at Czech Saxon Switzerland in the very same building where Mikov still produces its knives.
The fixed-blade military knife was in the past produced from stainless steel 17029, which was heat treated with MARTFROST technology. It was deep freezing of the iron after quenching that gave the material the desired properties. Within the secrecy, the brand Mikov was not allowed to be on the blade but only the series number (from 0001 to 0007). Each hundredth knife then went through the tests and measured the hardness. A military administration emblem was stamped on the blades checked in this way.
The knife's soldiers wore scabbards made of five layers of riveted cowhide. Then there were two tin cuffs in the sheath. They secured the knife against spontaneous falling out. Neither the scabbard could bear the trademark of the manufacturer. There were holes for the saw and file in the holder that was inserted into the back of the knife handle. Handle was plucked from vulcanized rubber, which had the designation 137 and it was roughened with small grooves.
The knife has gained popularity among soldiers during its existence. When the nonsensical secrecy ended with the fall of communism in 1989, it was also possible to offer it for the civilian market with the manufacturer's logo Mikov. This "civil" UTON, in addition to the logo, differs from the original UTON by the handle material, where the original hard rubber is replaced by a softer, more roughened rubber handle.
Since 1989, limited editions of UTON have also been created, made either specifically for some units or for significant historical occasions or limited edition of 100 pieces in special combinations of colors and engravings for collectors.