Golf with a knife
13. dubna 2021

If you play golf, the season starts for you, so you know that you need to prepare everything you need. Quality equipment - clothes, shoes, or holes - will help you give a good performance on the field. And most importantly, whatever your handicap, you will feel comfortable and comfortable in the time you spend with friends playing that gentleman's game. And it is safe because golf as a sport in pairs with a spacing of at least 10 meters meets all epidemic regulations.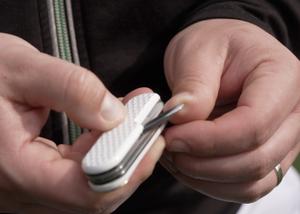 And how does our golf knife fit into the equation? It can become a small but handy and practical helper. Of course, above all, it is a knife with a small but sharp blade. And a knife always fits. You might say Pocket or Stovka fits just as well in your pocket, and you're right about that. But the golf knife offers you other benefits.
You may be one of those who wear special shoes with spikes on the green. These need to be tightened or replaced from time to time. The golf knife has a special tool to do that.
Sometimes it happens that the tee you want to pull out of the grass is very deeply stunned. Why risk injury or at least soiling your fingers - the fork of a golf knife can easily do that. Besides, it can help you to put the grass to its original state. We want the lawn to stay in the best possible condition for other players after us. 
Finally, everyone has already experienced that a lot of dirt is trapped into the grooves of the holes, especially now, in the spring months. A special tip on the knife will help you put the sticks back in a state that they look like new.
And finally - there is also a marker on the knife that can mark the place of impact of the ball on the green. By the way, this macro can easily be the brand of your company or golf club - and the golf knife will get another dimension - a quality promotional item.
You can order a golf knife here.